Transform Your Landscape: Plant a Tree
The Florida sun is one of the many things we love about our climate. It seems to shine a little brighter and hotter than most of the US which is probably why Florida got the nickname the Sunshine state. Because of this you may be looking for a way to keep your home or yard a little cooler especially in the summer months. Of course being tree lovers, we believe one of the best ways to provide shade and protection from the sun is by adding more trees to your landscape. After all, what good is it to have this beautiful whether if you spend all your time indoors hiding from the sun.
What's more relaxing than sitting underneath the canopy of a large shade tree. Or maybe you're looking to really add the feel of the beach to your yard. Nothing says beach like a breezy palm tree. While not every tree will work in every situation, the right tree in the right setting can be just the thing you need to complete your yard.
At SunState, we are proud of our expertise in tree installation. Whether you have an existing tree that needs to be replaced, or you're adding a new tree to your landscape we will help you find a tree that fits your needs. When deciding where to plant you have to consider how the tree will grow over time. You'll want to think about how tall the tree will become when fully mature as well as how the root system will grow. By planning ahead and thinking of future growth, you can avoid problems a tree might cause to exisitng walkways, structures and overhead powerlines.
If you have a tree removed we can follow this up with tree replacement to help your landscape retain its beauty and tranquility. If you already have a specific tree in mind for a certain spot in the yard, we are happy to accommodate you. On the other hand, if you are not sure what type of tree you want—or where you want to put it—we are happy to lend a hand in the decision-making process.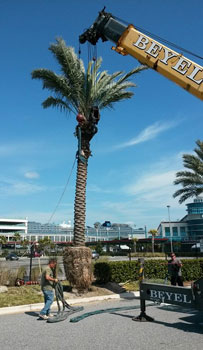 Tree installation is something that we take very seriously. We don't just dig a hole and drop the tree in; rather, we carefully evaluate the soil, the surroundings, and the immediate environment. We take steps, if necessary, to prep the soil, and we carefully install the tree in the manner that will best ensure the long-term health and beauty of the tree. Our expertise with trees spans more than 20 years and we are familiar with many different species of trees. Let Sunstate's tree experts evaluate your landscape and help you decide which type and size tree will work best for your location and landscaping needs.
We are here to assist with planting, maintaining, and even removing trees if necessary. From the initial stage of site location, to the installation of the tree, to trimming and pruning it, we are here at all stages, and we are ready to put our expertise to work for you.
Tree Trimming or Pruning
To add value to your property you may want to consider trimming and pruning any overgrown trees or shrubs. A well-maintained property will keep your trees healthy for years to come. Pruning trees helps prevent insect and decay organisms from entering a tree. It also increases light and air flow which promotes healthy growth.
As tree experts we know that there are different reasons and seasons for trimming, not all species are alike. If you have a fruit tree for example, you may want to improve the trees structure and distribute fruiting wood. This should be done during the dormant season. On the other hand, pruning a fruit tree after it blooms will thin the fruit.
Palm trees typically only require trimming once or twice a year. Over-trimming can weaken the tree and invite unwanted pests and disease. Most palm trees only require trimming of the brown dead fronds. Unfortunately it is a common practice for inexperienced landscapers to overtrim palms calling it a hurricane cut. This overtrimming can leave a palm tree vulnerable to storm damage.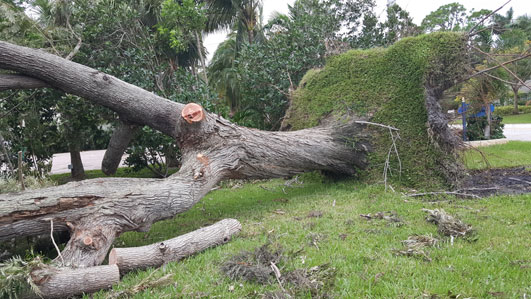 24 HR Storm Damage Cleanup
Living in Florida comes with a risk of severe weather. When a storm comes through the area and leaves branches and leaves everywhere, it can be a real challenge getting things cleaned up and looking good again. Give us a call, and we will dispatch a team of expert tree professionals to the site. We can have the debris cleaned up in no time, and help you get back to normal.
If you have a tree that was damaged due to a storm or other catastrophic event, we can help. We know that storms can cause damage anytime, day or night. Trees can cause major property damage that needs immediate attention, which is why we are available for emergency tree services, 24 hours a day, 7 days a week. Having gone through several hurricanes, we have experience dealing with insurance companies. Give us a call and we can get an estimate over to your insurance company quickly so that you can begin the clean-up process.
When Your Trees are at Risk, We Can Help
In addition to 24-hour storm damage cleanup, we offer other services such as tree bracing & cabling, tree health diagnosis, tree risk assessment, hazardous tree removal, and stump grinding.
Bracing and cabling is a method of providing a tree with additional support that it may need in order to recover from damage or prevent further destruction. Our team of experts is trained in evaluating trees and coming up with the best method of keeping them strong and intact. It's always better to save an existing tree, rather than replacing it, whenever possible.
As such, we are happy to perform a tree health diagnosis and help you understand the true state of the health of your tree. Our technicians are trained and experienced in checking for and identifying various issues with trees, and we can often find small details that an untrained eye may not see.
Trees are not as easy to assess as you might think, and a tree that appears perfectly fine could still be suffering from catastrophic disease or damage. These conditions can lead to expensive and dangerous situations when the tree falls or drops large limbs. If you have a tree that you suspect is suffering from disease, let our experts take a look. Sunstate will come out to your home or business, perform a tree risk assessment, and create a plan to help ensure your trees stay healthy and strong.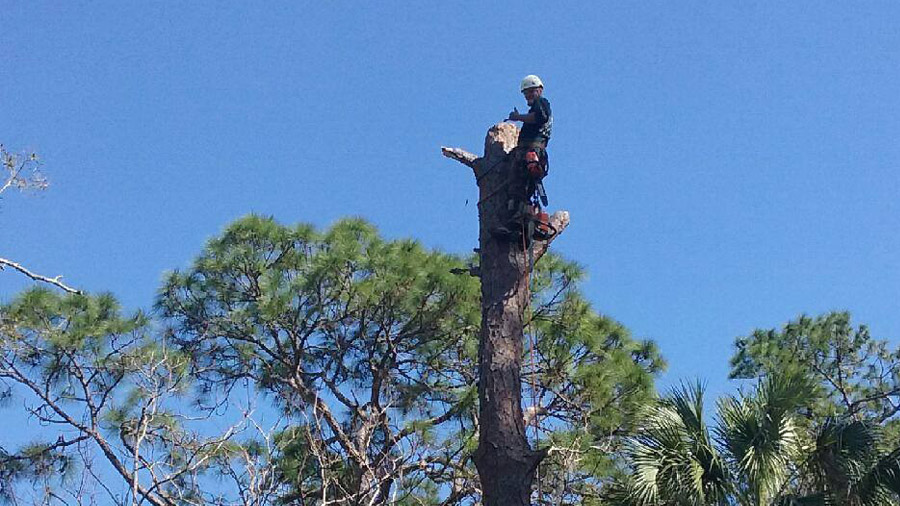 Tree Removal
Trees add shade and beauty to any home or business. They are an invaluable part of our ecosystem. At Sunstate, we don't like to recommend removing a tree but there are some situations when it is the best option. If a tree is diseased, dying or dead it can become a hazard to people or property, making removal necessary. Lightning can cause breaks or cracks in tree limbs or trunks injuring people or damaging property. Many people make the mistake of leaving the damage which weakens the tree. Weak spots in a tree have the potential to decay and spread.
When hazardous tree removal becomes necessary, we are qualified to assist with the task in a professional and safe manner. We can come in and remove the dangerous tree with a minimal amount of disturbance to the surrounding landscape and plants. When it's all said and done, we finish the job with stump grinding to make it look like the tree was never there in the first place.