A Paver Driveway Adds Instant Curb Appeal
An elegant new driveway is the perfect way to complete your property. Pavers come in a variety of textures, colors, and patterns giving you many design options to choose from. With the right design, a driveway can match your homes architecture, brighten your front yard and create a welcoming look at the entrance of your home.
Some older Florida homes don't offer enough driveway space to accommodate more than one vehicle. A paver driveway can allow you to expand your driveway area making it more convenient for parking especially when you have guests. Since the Space Coast area is home to many snowbirds, Motorhomes or RV's are often a concern when it comes to parking. A paver driveway is a great way to get your RV safely stored away when not in use.
Another reason pavers are a great choice is that they are movable making it easy to access existing utilities or install new utility services in the future. If you need to expand the size of your driveway or you just want to change the look of your driveway, pavers are a great option to create the perfect design to compliment your home and landscape.
Use Pavers to Elevate Your Landscaping to the Next Level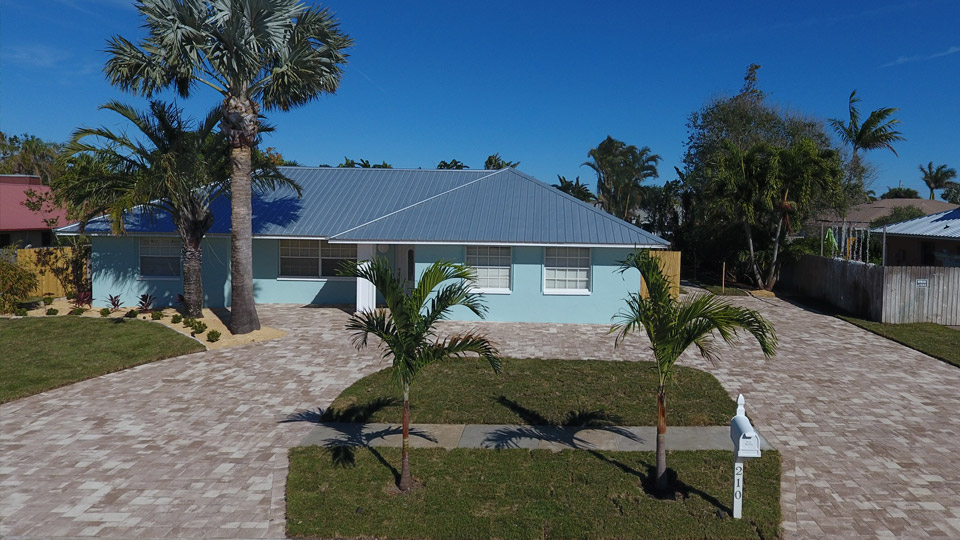 Living in the Melbourne area certainly has its advantages: balmy weather, beautiful scenery, and a reasonable cost of living combine to make it highly desirable for people from all walks of life. One thing that many people never consider is that the year-round temperate weather makes for many opportunities—throughout the year—to enjoy the great outdoors.
A wonderful way to enhance your outdoor experience is using patio pavers to enlarge your living space. Professionally-installed paver patios do wonders to add usable living space to your backyard, especially when complemented by tasteful driveway pavers.
We can install interlocking pavers over your existing pool deck along with matching coping for a seamless look. And of course every great backyard needs a great patio for grilling and spending time enjoying the beautiful Florida weather.
Pavers: A Beautiful and Elegant Touch to Your Landscaping
Paver driveways, paver patios, and paver walkways are all ways to enhance the beauty and appeal of what would otherwise be functional outdoor spaces. Given that your property will almost always have these structures, regardless, it makes sense to use pavers to construct them. Doing so adds appeal, enjoyment, and class to your property. What's more, it improves your property values, meaning you will frequently recoup your investment—and more—when you decide to sell your home.
A professionally-installed paver structure entails much more than tossing some pavers on the ground. We at SunState use a highly-skilled team to install everything from paver pool decks, decorative walls, decorative borders, retaining walls, and more.
We believe that by insisting on only the highest-quality workmanship, we convey to our customers the fact that we take their business very seriously. Whether you're simply having a small paver patio put in, or a whole-backyard remake complete with a walkway, matching driveway, and more, Sunstate will get the job done right.
Pavers Are a High-Quality Way to Capture More Outdoor Space
Decks and patios have long been a simple and quick way to add to your home's floorspace. However, some people use wood for their decking and simple concrete pads for their patios. We believe this is a poor choice, for a variety of reasons.
For one thing, wood tends to weather poorly and needs continual maintenance in order to remain in good working condition. Rather than committing to years of painting, sealing, and repairs—followed by an eventual complete replacement—a better choice would be to have a beautiful paver patio installed instead. A properly installed paver patio will last for decades with very little or no maintenance whatsoever.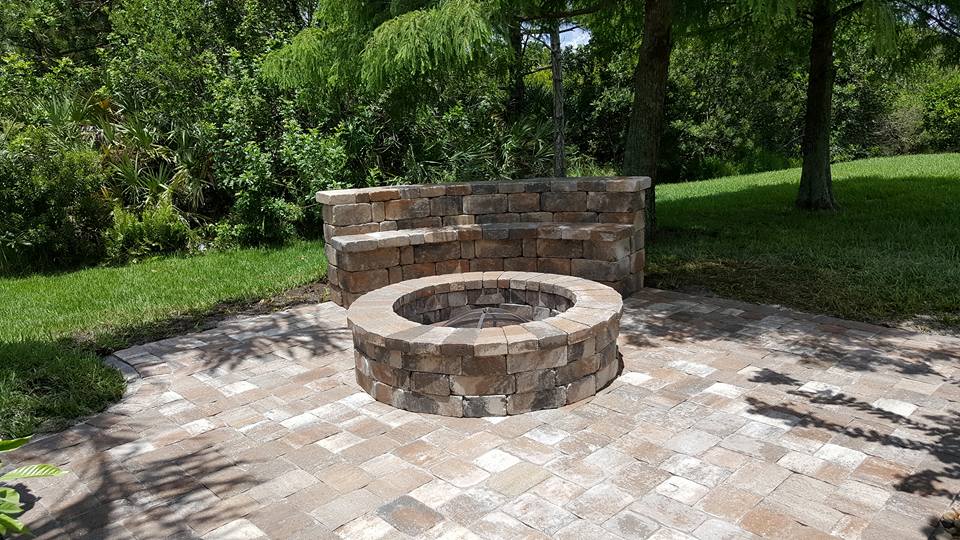 Some people, seeing the future problems that wood can bring with it, opt to have a solid concrete patio poured instead. While this does eliminate the issue of future maintenance, it creates something of an eyesore. Instead of a drab concrete pad, consider an attractive—and yet highly functional—paver patio instead. Complete it with a beautiful and relaxing addition: we offer quality fireplaces & fire pits, installed and ready to enjoy.
Of course, homes in the Satellite Beach area have many other outdoor features than simple patios. Whether you're putting in a new walkway, a decorative retaining wall, or a simple border around your garden, using pavers to do it is a great way to ensure the beauty and durability for years to come.
Paver walkways are a great addition to any backyard or garden area. They serve the role of accenting the landscaping as well as providing a way for you to move through the area without getting your feet dirty. When you call us, we come out and evaluate the site, determining exactly what your needs will be. Then we provide you with a quote so you can decide for yourself. Once you're ready to go, we order materials and arrive on site. Within hours—or a few days, in the case of larger walkways—you have a beautiful and useful walkway.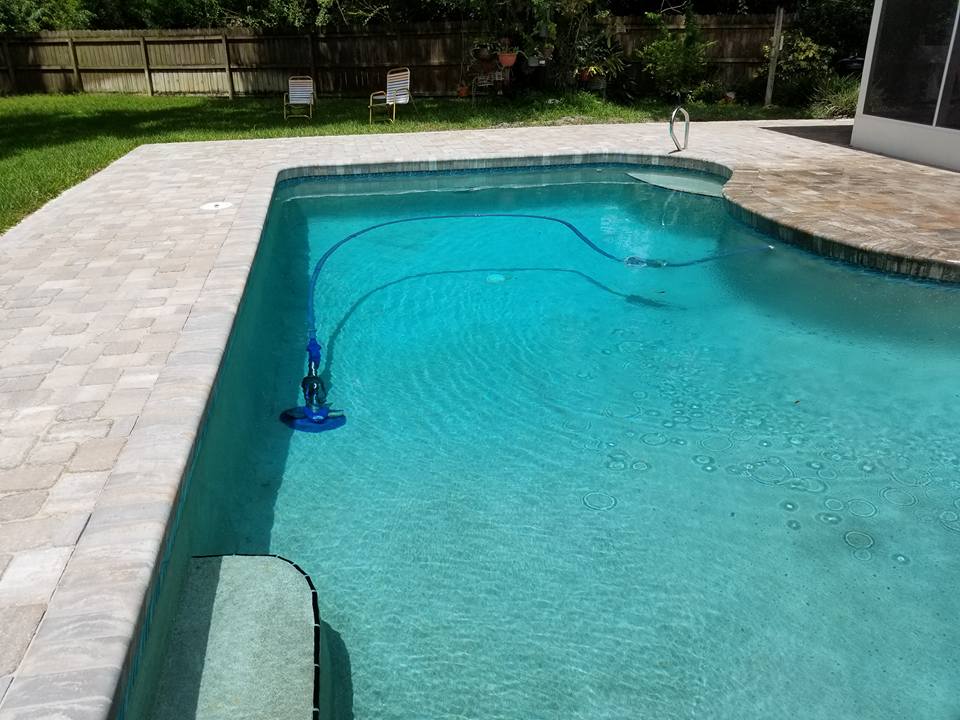 When it comes to retaining walls, you don't need to settle for a drab wall made out of poured concrete, cinder block, or landscaping timber. We can create a true work of art for you: retaining walls constructed of pavers are both beautiful and functional. If you wish, we can craft seat walls, accent columns, and other aesthetic wonders from various types of pavers.
Pavers are useful for other things, too. They are a great way to build decorative borders that will stand the test of time and still look good. Likewise, they may be used for accent around a swimming pool or other water feature: paver pool decks will look good and perform well for years to come.
If you already have paver driveways or paver walkways, you might be wondering about the upkeep and maintenance. Let us come out and help with that: we offer quality paver sealing at a very affordable cost. Paver sealing will help protect your investment from the elements, and will discourage unsightly weeds, grasses, and other such things from taking root in your paver structure. We are more than happy to give you a free estimate for paver sealing, so give us a call today!